این کتاب به نام Microbiology : An Introduction معروف به Tortora توسط انتشارات Pearson که از بزرگترین انتشاراتی ها برای رشته های سلولی می باشید با چاپ این کتاب در سال 2010 تحولی جدید در عرصه میکروبیولوژی ایجاد کرده است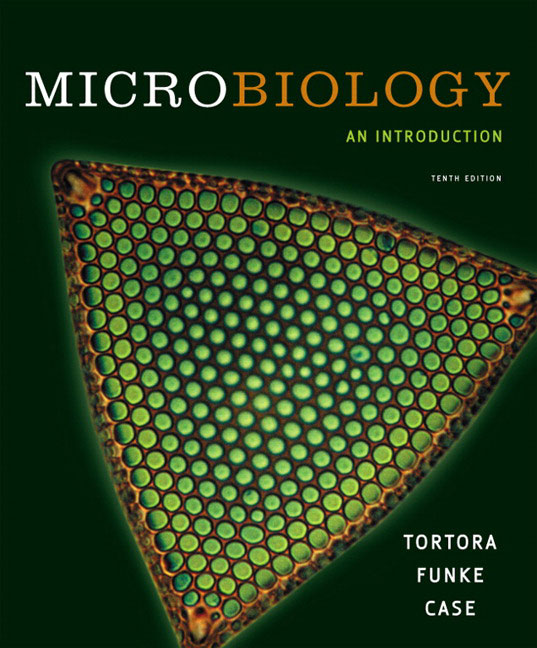 Microbiology: An Introduction (10th Edition) by: Gerard J. Tortora, Berdell R. Funke, Christine L. Case en 0321550072 9780321550071 0321582020 9780321582027
Microbiology: An Introduction (10th Edition)
By Gerard J. Tortora, Berdell R. Funke, Christine L. Case
•Publisher: Benjamin Cummings
•Number Of Pages: 960
•Publication Date: 2009-01-09
•ISBN-10 / ASIN: 0321550072
•ISBN-13 / EAN: 9780321550071
price : 149.99$
برای دانلود کتاب و CD آن به ادامه ی مطلب مراجعه فرمایید
Product Description:
This #1 selling non-majors microbiology book is praised for its straightforward presentation of complex topics, careful balance of concepts and applications, and proven art that teaches. In its Tenth Edition, Tortora/Funke/Case responds to the #1 challenge of the microbiology course: teaching a wide range of reader levels, while still addressing reader under-preparedness. The Tenth Edition meets readers at their respective skill levels.
First, the book signals core microbiology content to readers with the new and highly visual Foundation Figures that readers need to understand before moving forward in a chapter. Second, the book gives readers frequent opportunities for self-assessment with the new Check Your Understanding questions that correspond by number to the chapter Learning Objectives. Then, a new "visual learning" orientation includes: an increased number of the popular Diseases in Focus boxes, newly illustrated end-of-chapter Study Outlines that provide students with visual cues to remind them of chapter content, and new end-of-chapter Draw It questions. The all-new art program is contemporary without compromising Tortora/Funke/Case's hallmark reputation for precision and clarity. Content revisions include substantially revised immunity chapters and an increased emphasis on antimicrobial resistance, bioterrorism, and biofilms. The new Get Ready for Microbiology workbook and online practice and assessment materials help readers prepare for the course.
The Microbial World and You, Chemical Principles, Observing Microorganisms Through a Microscope, Functional Anatomy of Prokaryotic and Eukaryotic Cells, Microbial Metabolism, Microbial Growth, The Control of Microbial Growth, Microbial Genetics, Biotechnology and Recombinant DNA, Classification of Microorganisms, The Prokaryotes: Domains Bacteria and Archaea, The Eukaryotes: Fungi, Algae, Protozoa, and Helminths, Viruses, Viroids, and Prions, Principles of Disease and Epidemiology, Microbial Mechanisms of Pathogenicity, Innate Immunity: Nonspecific Defenses of the Host, Adaptive Immunity: Specific Defenses of the Host, Practical Applications of Immunology, Disorders Associated with the Immune System, Antimicrobial Drugs, Microbial Diseases of the Skin and Eyes, Microbial Diseases of the Nervous System, Microbial Diseases of the Cardiovascular and Lymphatic Systems, Microbial Diseases of the Respiratory System, Microbial Diseases of the Digestive System, Microbial Diseases of the Urinary and Reproductive Systems, Environmental Microbiology, Applied and Industrial Microbiology . Intended for those interested in learning the basics of microbiology.
Summary: Just what I needed
Rating: 4
Though this is a textbook it reads just a little better. Exactly what I needed for class.
Summary: micro review
Rating: 5
Very nice, but not whast I was looking for. I didn't know that it was three hole punched, and not bound...I thought the description said paperback.
Summary: Few Things are as Beautiful
Rating: 5
I have to admit less experience than I would have liked, but from my experience you will want to learn from this book; through it is likely a product of the field.
Summary: Microbiology textbook
Rating: 5
Price was quite good, as was quality of textbook. It still had code inside and arrived promtly:)
Summary: great service
Rating: 5
The book came in about 8-9 days after I placed the order. There was a tracking number provided that I could track where the book was. The book was brand new (as described on the website).
دانلود قسمت اول از سرور ifile حجم 123MB

دانلود قسمت دوم از سرور ifile حجم 94.1MB
دانلود یکجا از سرور rapidshare حجم 130MB
Pass: alivebiolibrary

دانلود CD کتاب چاپ 8 حجم 167.24MB
ارسال به